Split green pea soup. Melt butter and oil in a Dutch oven over medium-low heat. Add celery, onion, carrot, and salt. Hearty homemade green split pea soup.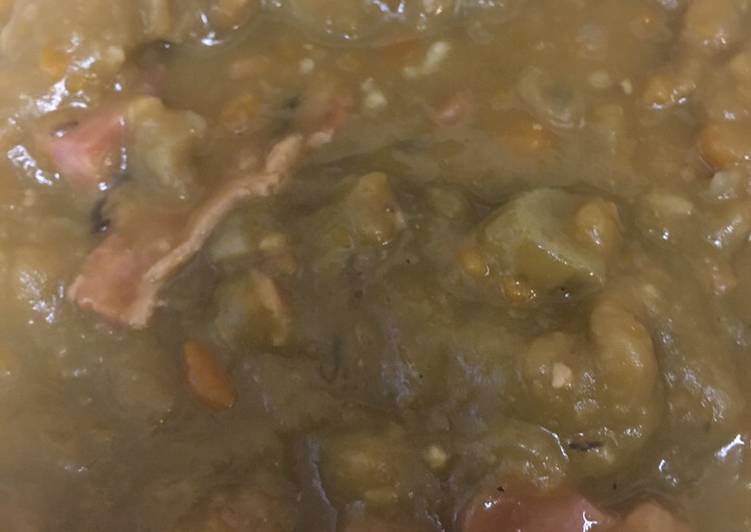 In a large pot or Dutch oven over medium heat, heat olive oil. Cook onion, carrot, celery and garlic until onion is translucent. Stir in yellow and green split peas, broth, seasoning and salt. You can cook Split green pea soup using 17 ingredients and 12 steps. Here is how you achieve it.
Ingredients of Split green pea soup
It's 1 tablespoon of olive oil.
You need 2 tablespoons of butter.
Prepare 1 of Onion, diced.
It's 3 stalks of celery, diced.
It's 2 of bay leaves.
You need 1/4 tsp of thyme leaves,dried.
Prepare 3 of carrots, chopped.
It's 4-6 cloves of Garlic, presses or finely minced.
It's 1/4 tsp of Pepper.
You need 6 cups of chicken or vegetable broth low sodium (add another cup if you want thinner broth).
You need 1 lb of Green Split Peas (rinced).
You need 1 tsp of liquid smoke optional for vegetarian version.
It's 1/2 tsp of salt kosher or 1/4 tsp table salt (add after cooking if needed).
It's of Optional meats you can use: (or combination of them).
You need 6 slices of bacon.
It's 2 of small ham hocks.
It's 2-3 cups of diced leftover ham (which is all I use).
Top with za'atar (a blend of dried herbs, sesame, and sumac) for a really special flavor. (Recipe adapted from the Middle Eastern Vegetarian Cookbook by Salma Hage). This was the first ever ham & pea soup I ever made and it was delicious! Split pea soup can be kept refrigerated for about a week, or frozen for up to three months. To freeze, cool the soup completely, then transfer to freezer containers or bags.
Split green pea soup step by step
Turn the pressure cooker on to the Sauté function. Let it warm up and add the olive oil and butter..
Add the onion, celery, bay leaves, and thyme. Cook, stirring occasionally, until onion starts to turn translucent.
Add the carrots, garlic, (bacon or ham, if using), and pepper and cook for a minute.
Add broth, hambone or ham hock, if using, (Add liquid smoke, if using, for vegetarian method). Let come to a simmer..
Stir in split peas..
Place the lid on the pot and lock it in place. Set the steam release knob to the Sealing position..
Cancel the sauté function and Choose Pressure Cook/Manual, and use the + or – or dial to choose 18 minutes. High pressure. It will take a few minutes for the pot to come to pressure..
.
When the cooking time has finished, let the pot sit undisturbed for 15 minutes to naturally release some of the pressure. Then turn the steam release knob to Venting to quick release the remaining pressure..
When the pin in the lid drops down, carefully open the lid, facing away from you. Remove the bay leaves and the bone or ham hocks, if you used them..
Taste and add the salt as desired. Serve hot. The soup will thicken quite a bit when it cools, that is normal..
This isn't my recipe I found it online at simply nourishing and tried it out. I liked the fact you do not have to use Ham or a ham hock. I posted it because I use it again and again and tweek it till it tastes the way I like it.😸.
Thaw overnight in the refrigerator, or gently warm the frozen soup in a saucepan over low heat on the stove top. Split pea soup has been a favorite winter warm-up for thousands of years. C., Greek farmers cultivated this legume, while Athenian street vendors sold hot pea soup to passersby. When King Louis XIV of France was hungry for pea soup, his court at Château de Saint-Germain-en-Laye served up its famous version, Potage Saint. Split pea soup is classic comfort food.