Creamy Chicken Noodle Soup. A hearty and comforting creamy chicken noodle soup that'll keep you cozy all night long. This soup is so easy to put together and is always a big hit with the family. Cut chicken into chunks; add to soup.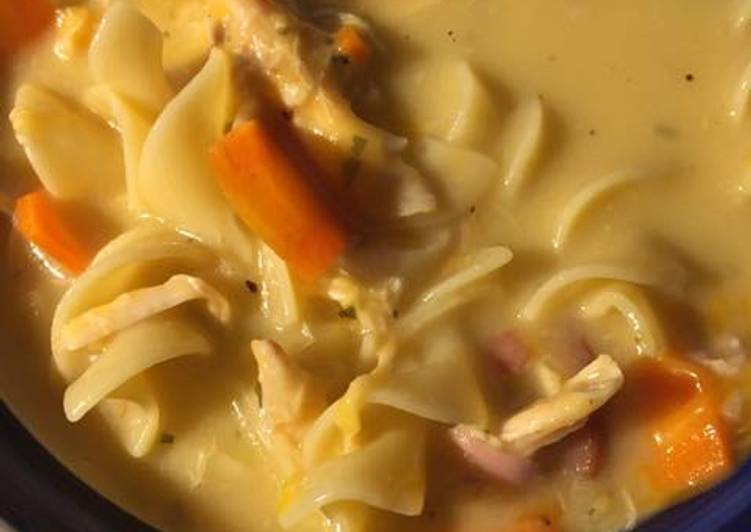 Some folks say homemade chicken noodle soup helps battle a cold or the flu, but even doubters agree its comforting flavor has great appeal. This version serves a crowd and is creamy and rich without added cream. "Easy creamy chicken noodle soup recipe loaded with chunks of chicken, onions, carrots, celery, fresh parsley, noodles and garlic in a savory, creamy broth. Even more comforting than regular chicken noodle soup!" This fresh, easy, creamy chicken noodle soup is quickly becoming my favorite. You can have Creamy Chicken Noodle Soup using 10 ingredients and 1 steps. Here is how you cook it.
Ingredients of Creamy Chicken Noodle Soup
It's 3 cups of cooked chicken (can use rotissiere cicken).
Prepare 1 (10.75 oz) of can condensed cheese soup.
You need 6 cups of chicken broth.
It's 1 cup of milk.
You need 2 stalks of celery thinly sliced or chopped.
You need 2 of carrots thinly sliced or chopped.
Prepare 1 (1 oz) of packet of powdered ranch dressing mix.
You need 1 (2.25 oz) of package real bacon bits.
Prepare 1 cup of shredded cheddar cheese.
It's 8 oz of packaged uncooked egg noodles.
It's not often I share a soup recipe on my blog. The last was the Slow Cooker Chicken Potato Corn Chowder and before that was this popular Roasted Tomato Basil Soup and this Slow Cooker Lasagna Soup. Because the weather has been SO miserable and cold, going backwards instead of forwards, soup has been coming out of our ears. Season chicken with salt and pepper, to taste.
Creamy Chicken Noodle Soup instructions
In a large kettle combine chicken, cheese soup, chicken broth, milk, chopped celery, sliced carrots and bacon bits. bring to a boil, reduce heat and let simmer & cook for about 30 minutes or until vegtables are soft n tender.Stir in egg noodles and cook about 5 minutes or till noodles are tender. Serve with your favorite bread. and can top with more cheddar cheese..
Stir in chicken stock, garlic, onion, carrots, celery, thyme, rosemary and bay leaves; season with salt and pepper, to taste. Heat a large pot with a lid over medium-high heat. Grease with cooking spray or a light drizzle of olive oil. Simmer on low heat until chicken is tender. Remove chicken, reserving all broth and vegetables as stock for soup.