(NOT cream of) Potato soup w/Carrots, Cerleriac and fresh herbs. This type of dish has countless flavor permutations, of course, but the most famous (and my favorite) is the Provençal daube, seasoned with local herbs and a bit of orange zest. The orange was originally the bitter Seville orange, but you can make a fine daube with a few strips of navel orange (add a strip of lemon. See more ideas about Food, Recipes, Cooking recipes.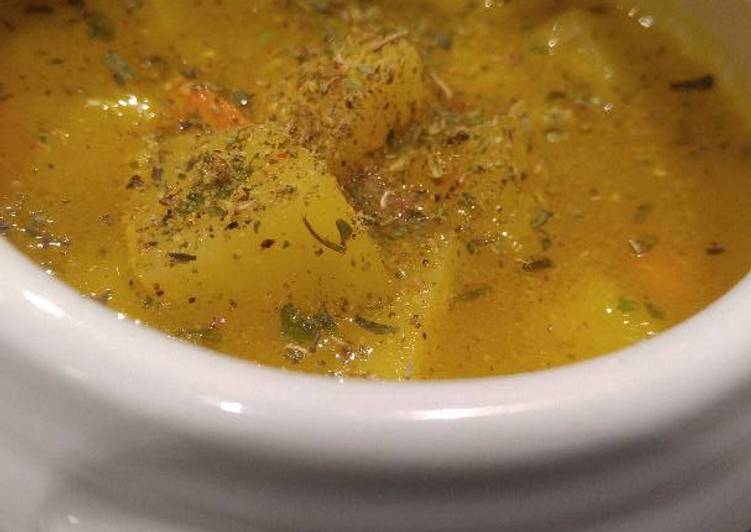 See more ideas about Food recipes, Food and Cooking recipes..sweet corn kernels, frozen green pea, frozen carrot, frozen strawberry, frozen potato, fresh onions, fresh cabbage, canned peaches, canned tomatos, etc. There is a lot of work that goes into this one salad, with a long list of ingredients to go along with several items that have to be cooked, but the payoff is fair at the end. Sweet, spicy, fresh, protein, it's a full meal all by itself. You can have (NOT cream of) Potato soup w/Carrots, Cerleriac and fresh herbs using 13 ingredients and 9 steps. Here is how you cook it.
Ingredients of (NOT cream of) Potato soup w/Carrots, Cerleriac and fresh herbs
Prepare 200 g of celery bulb.
You need 130 g of pealed onion.
It's 40 g of carrot.
You need 20 g of virgin olive oil.
It's 1 kg of cubed potatoes.
It's 10 g of herb salt.
You need 5 g of finely chopped parsley.
Prepare pinch of oregano (dried is fine).
You need 1 g of estragon (dried is fine).
You need 200 g of diced/sliced carrots.
Prepare 900 g of hot water (cold is fine).
It's 1 tbs of veggie broth powder (optional and to add for taste).
It's pinch of ground pepper.
(NOT cream of) Potato soup w/Carrots, Cerleriac and fresh herbs instructions
With the help of a kitchen machine that can weigh and cook (e.g. thermomix=tmx) this recipe can be quickly made, but it's easy to follow should you be preparing everything manually and on stove (just more time consuming).
Dice celeriac, one carrot, onion or in blender e.g. a tmx: 6sec speed5.
Sautee mix in heated oil or tmx: add oil and program varoma 4:30min speed spoon.
Add diced (rinsed, not necessarily pealed) carrots and (rinsed, half-pealed) potatoes to sauteed mix.
Add herbs, salt and pepper and water.
Now let come to a boil, stir and let simmer with lid on for about 10/15 minutes or till potatoes done. In tmx: 20min 100C reverse speed spoon (if you used cold water 25min).
Length of time cooking potatoes will vary according to type you used and cube size which should depend on how big/small you like them best in a soup.
Try and adjust salt/pepper to your taste.
Serve with a bit of parsley and freshly ground pepper on top.