Simple Creamy Butternut Squash Soup.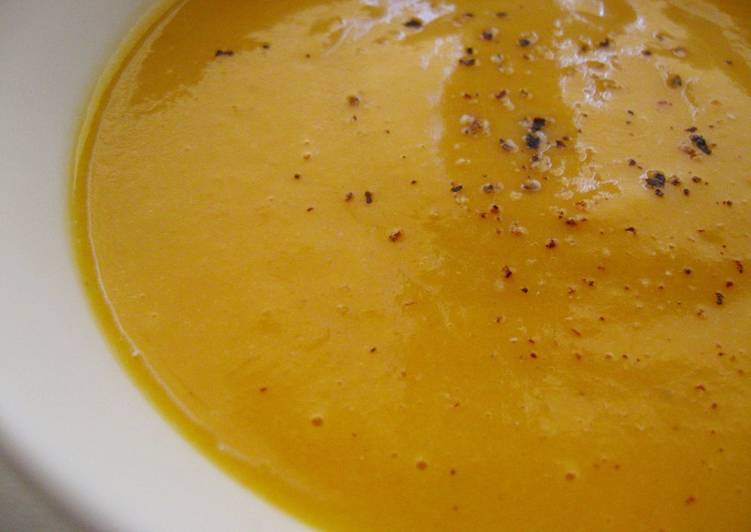 You can cook Simple Creamy Butternut Squash Soup using 13 ingredients and 7 steps. Here is how you achieve it.
Ingredients of Simple Creamy Butternut Squash Soup
Prepare 1 of small butternut squash (the smallest you can find is usually enough to make this recipe twice).
It's 2 Tablespoons of butter plus 1 teaspoon olive oil.
You need 2 cups of chopped leeks (light green and white parts only – remember to wash your leeks well!).
It's 1/2 of a medium onion, chopped into a 1/2-inch pieces.
Prepare 1 of medium carrot, halved lengthwise and cut into 1/2-inch pieces.
Prepare 1 of stem celery, cut into 1/2-inch pieces.
You need 1 teaspoon of fresh thyme (or 1/3 to 1/2 teaspoon dried).
You need 2 cups of baked butternut squash.
It's 4 cups of unsalted chicken or vegetable stock.
It's 2 teaspoons of kosher salt to start.
It's 1/2 teaspoon of black pepper.
It's of up to 1 teaspoon sugar if needed to lightly sweeten (some squashes are sweeter than others).
You need 1 cup of heavy whipping cream (you can use whole, lowfat, or nonfat milk – it'll be a little less rich and creamy, but still yummy).
Simple Creamy Butternut Squash Soup step by step
BAKING THE SQUASH: Preheat oven to 375F. Cut squash in half lengthwise, scoop out the pulp and seeds, place flesh side down on your sheet pan or baking sheet, and bake for 45 minutes or so until a fork or knife pierces all the way through the thickest part of the squash like a hot knife through butter..
NOW FOR THE SOUP: Put the butter and oil in a 4 or 5 quart pot and turn the heat to slightly higher than medium. When the butter is completely melted, add the aromatics (all the veg other than squash) and saute until the onions are translucent and the leeks and onions just begin to brown in parts (about 5 minutes)..
Add the thyme, butternut squash, stock, salt, pepper, and sugar and stir gently a few times to evenly distribute all the ingredients. Turn the heat up to medium high and bring soup to a gentle boil for 2 to 3 minutes..
Turn the heat down to medium low and simmer, with the lid on askew, for 25 minutes (or until a fork pierces the carrot pieces VERY easily – the carrots need to be this tender in order to get a really smooth, silky consistency to the final product), stirring occasionally and adjusting the heat down if necessary. (If you can scrape stuff off the bottom of the pot, your heat's too high.).
Stir in the cream, adjust seasoning if needed, and simmer, uncovered, for another 5 minutes..
Blend the soup until it's a smooth, velvety consistency. If you have a stick blender, that's the easiest way to go, but if you're using a regular blender, blend 3 cups at a time, starting at a very low setting for the first 5 seconds to avoid splatter and then turn up to the puree setting for 20 seconds or so..
Enjoy!.