Broccoli Cheddar Soup. My husband loves Panera® broccoli cheddar soup but it went up in price and therefore we set out on a hunt to create the perfect broccoli cheddar soup. Here is what we came up with. This cheesy broccoli cheddar soup is proof that soup doesn't need to be made in big batches to be Broccoli Cheddar Soup.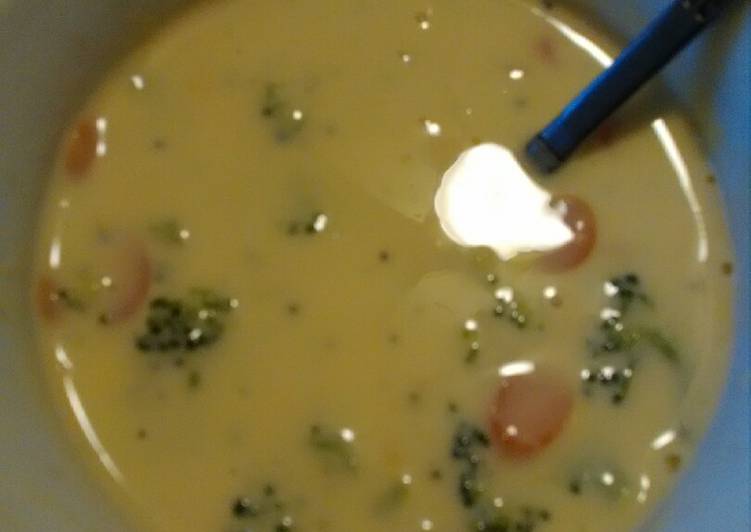 Although it's pureed, it does still have some texture in it from small bits of broccoli. Recipe by chefnini. ounces grated sharp cheddar cheese. salt and pepper. crusty bread or bread bowl. This soup is stick to your bones good. You can have Broccoli Cheddar Soup using 8 ingredients and 4 steps. Here is how you cook it.
Ingredients of Broccoli Cheddar Soup
Prepare 1 1/2 cups of vegetable broth.
Prepare 2 cups of milk.
It's 2 cloves of garlic, chopped.
Prepare 1 1/2 cups of broccoli florets.
Prepare 1 cup of carrots, chopped.
You need 2 tbsps of cornstarch.
You need 2 cups of sharp cheddar, shredded.
Prepare of Salt and pepper.
Perfect on a winter night, yet we crave it year round. Panera's Broccoli Cheddar Soup – This recipe tastes just like it! Creamy broccoli cheese soup is comfort food at its Panera's Broccoli Cheddar Soup. posted by Christy Denney Our Broccoli Cheese Soup recipe has taken quite a few years to get right: taste, flavour and consistency.
Broccoli Cheddar Soup step by step
In a pot, combine vegetable broth, milk, garlic, and vegetables. Bring to a rapid boil.
Dissolve cornstarch in cold water. Add in cornstarch while stirring..
Slowly add cheese while stirring. Cook until cheese is completely melted..
Add salt and pepper to taste..
This might not be an exact replica of Panera's Broccoli Cheddar Soup… This Broccoli Cheddar Soup recipe uses simple ingredients but has so much flavor and creaminess. Some soups require hours and hours of simmering time to develop. This Broccoli Cheddar Soup is the also a meal prep friendly recipe, so you can make it in a large We wanted to make this broccoli cheddar soup not only delicious but also healthier than the. Broccoli Cheddar, What Could Be Better? Broccoli cheddar soup has always been one of our favorite dishes at Panera.