Potato broccoli ham and cheese soup. This is a soup for when the weather is bitter and you crave serious, starchy comfort food. I put this together one night when I couldn't decide whether to make potato, ham, or broccoli-cheese soup – the result is a complete meal in a bowl. In a large stock pot saute onion in butter.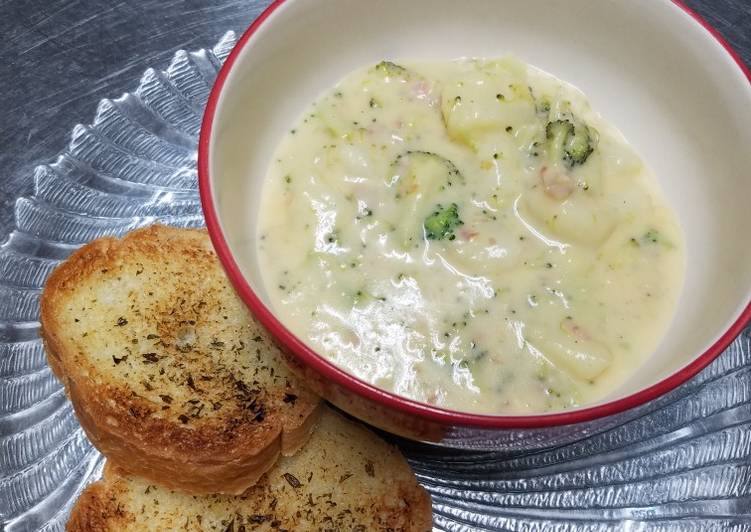 This is a wonderful alternative and GREAT for diabetics! The only carbs are in the milk, and the little bit of flour! And it's so easy to throw together! You can have Potato broccoli ham and cheese soup using 13 ingredients and 4 steps. Here is how you cook that.
Ingredients of Potato broccoli ham and cheese soup
Prepare 1 head of fresh brocolli.
You need 2 cups of finely diced ham.
You need 1/2 cup of diced onion.
Prepare 1/2 cup of butter.
You need 1/4 cup of flour.
You need 1/2 cup of white cooking wine.
You need 1 cup of milk.
You need 8 cups of potatoes (peeled & chopped).
Prepare 12 cups of water.
You need 2 teaspoons of salt.
It's 1 teaspoon of pepper.
You need 6 slices of American cheese.
It's 4 ounces of velveeta cheese.
I just steam the broccoli in the microwave, and then chop it, and the ham, while I wait on the soup to boil. Add the cheese, broccoli and reserved potatoes; cook and stir until cheese is melted and soup is heated through. Thick, hearty and creamy, this Broccoli and Potato Soup will warm your soul. I like to stir through cheese at the very end for that little bonus cheesy goodness, and to finish it off with a sprinkle of golden brown bacon or ham.
Potato broccoli ham and cheese soup step by step
Place water potatoes and salt in 8 quart pot. Boil until tender, around 20 minutes. Simutaneously, chop broccoli florets and stem and steam until tender, around 15 minutes..
While boiling potatoes and steaming broccoli, melt butter in pot and cook onions until translucent. Mix flour into butter and onions. Slowly add white cooking wine stirring constantly until it is a smooth consistency..
Remove water from potatoes and add 8 cups to sauce. Stir in milk and bring mixture to a simmer. Slowly add American and velveeta cheese, stirring until smooth..
Add potatoes, ham, broccoli and pepper to the mixture and allow to sit for 5 minutes. Serve with garlic toast..
Use this recipe as a base to add your own touch, like adding protein and other vegetables! Potato and Broccoli Soup For this soup, you will need basic soup ingredients: garlic, butter, broccoli, potatoes, broth, half and half, and cheese. The bacon is optional; it really makes the soup taste like a loaded baked potato! Without the bacon, you can have a simple Meatless Monday meal. In a bowl mix together soup, sour cream, mayonnaise, chives, Parmesan cheese, pepper, salt, garlic power and melted butter.