Cheddar Onion and Leek Soup. Here in Florida it's strawberry season. It used to be strawberry capital of the nation. Well when they plant strawberries they plant these humongous onions we call them strawberry.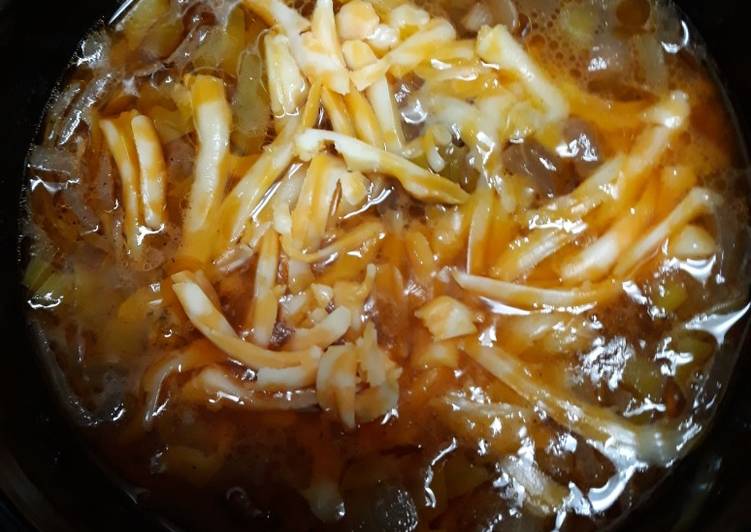 Add chicken and serve it as a main dish or serve it as a side to a nice sandwich or salad. A few weeks ago I was planning out what kind of recipes I wanted to include on Num's the Word. The flavor of this Slow Cooker Potato Leek Soup with Cheddar is mild and the creamy texture appeals to kids and adults alike. You can cook Cheddar Onion and Leek Soup using 8 ingredients and 5 steps. Here is how you cook it.
Ingredients of Cheddar Onion and Leek Soup
It's 1 tablespoon of Worcestershire sauce.
You need 2 of large white onions.
It's 2 of leeks.
You need 3/4 quart of beef broth.
Prepare 1 teaspoon of ground sage.
Prepare To taste of salt and ground black pepper.
It's 2/3 stick of butter salted.
Prepare 1 cup of shredded cheddar Monterey jack cheese.
If you puree your soup well (I use my Vitamix blender, affiliate link), it will turn out ultra smooth and creamy. There's no need to add any cream to the finished soup, as it is plenty creamy without it. Melt the butter over medium heat in a large soup pot. This rich and intensely flavoured English-style soup will become a winter favourite.
Cheddar Onion and Leek Soup instructions
Wash the leeks very well. Slice in half. Use all the white part, and the tender green part. Just make sure you rinse the leeks properly. Slice them thinly on a bias..
Peel and slice the onion. Heat the butter and add the leeks and onions..
Add the seasonings mix and sauté for 10 minutes.Then add the broth..
Bring to a boil. Boil 15 minutes then reduce heat to a simmer. Simmer 30 minutes covered..
Serve with shredded cheddar cheese with Monterey jack. I hope you enjoy.
Use a three- to five-year-old Cheddar for the best flavour. At the end of cooking, adjust salt to taste if necessary, because the salt content of the cheese and broth varies. Pass the pepper mill at the table. Peel and crush the garlic, peel and slice the onions and shallots. Trim, wash and slice the leeks.