How to Prepare Tasty Ham, Broccoli, Gouda Cheese Soup
Ham, Broccoli, Gouda Cheese Soup. In a stockpot, melt butter over medium heat. Loaded with ham, cheese, potatoes and TONS of broccoli! It is the perfect cozy, comforting soup for any time of the year.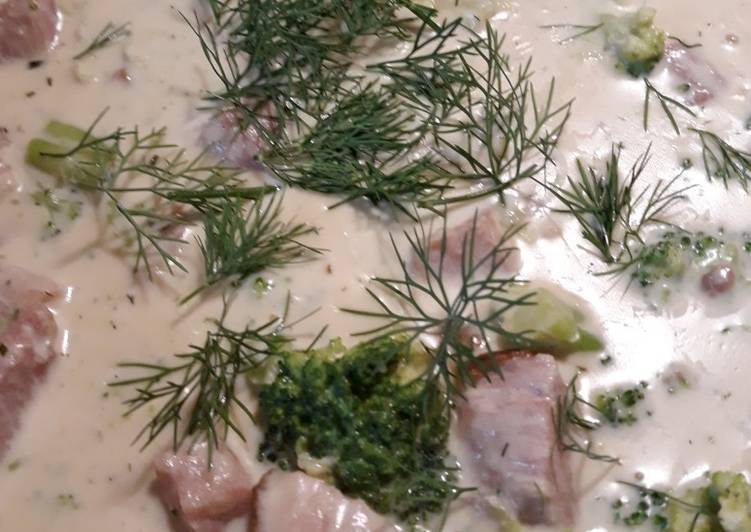 Anyway, smoked Gouda cheese and broccoli soup are a perfect match. First allow your soup to cool at room temperature before transferring. I love cheesy potato soup but since I'm diabetic now, I can't have the carbs. You can have Ham, Broccoli, Gouda Cheese Soup using 12 ingredients and 3 steps. Here is how you cook that.
Ingredients of Ham, Broccoli, Gouda Cheese Soup
Prepare 4 ounces of Gouda cheese.
You need 1 stick of butter divided.
You need 1 pound of broccoli.
Prepare 15 ounces of canned evaporated milk.
It's To taste of salt.
It's 1 teaspoon of ground white pepper.
You need 1/2 teaspoon of ground black pepper.
Prepare 1 pound of smoked ham.
It's 1/2 teaspoon of tarragon.
Prepare 1 teaspoon of dill weed plus more for garnish.
Prepare 1/2 cup of all purpose flour.
Prepare 1/2 cup of water.
This is a wonderful alternative and GREAT for diabetics! The only carbs are in the milk, and the little bit of flour! And it's so easy to throw together! I just steam the broccoli in the microwave, and then chop it, and the ham.
Ham, Broccoli, Gouda Cheese Soup instructions
Steam the broccoli. Cube the ham and fry it in a deep pan, with the black pepper, 2 tablespoons of butter, and tarragon..
Grate the gouda. Melt the butter with the ham add the seasonings except for some of the dill for garnish..
When butter is melted add the milk and cheese. Stir till the cheese is creamy don't boil or your soup may break and become grainy. Stir in the broccoli. Mix the flour and water and stir in till it is as thick as you like. Garnish and serve. I hope you enjoy!!!.
Potato, Ham, Broccoli and Cheese Soup with Baby DumplingsAllRecipes. Cream Of Broccoli Soup With Ham Recipes. Smoky Broccoli Beer Cheese SoupSumptuous Spoonfuls. This easy, low carb broccoli cheese I love the creamy taste and the cheesy goodness. I usually add carrots and diced ham, which doesn't.
---