Vickys Roasted Butternut Squash & Parsnip Soup GF DF EF SF NF. Butternut Squash with Onions and Pecans "Wonderful recipe for squash! Chef John's Ham and Butternut Spaghetti "This is so fabulous! It has become the request for birthday dinners!" – tdcron [Photograph: Vicky Wasik] Smooth and silky butternut squash soup is a cold-weather staple.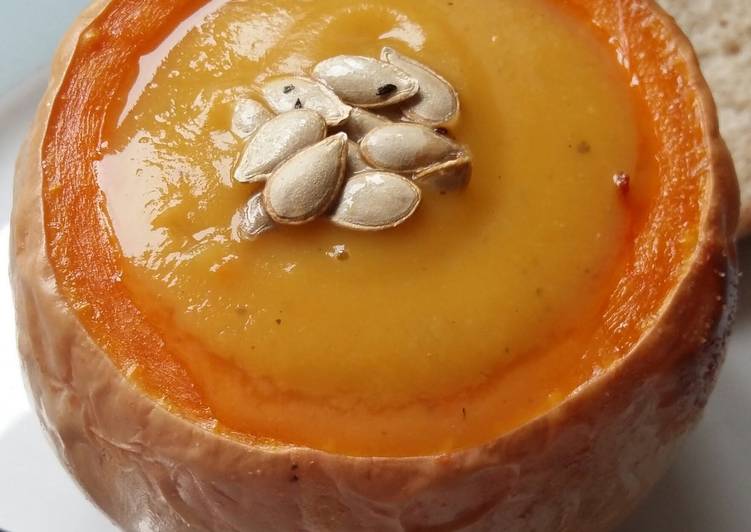 Once that bad boy is cut into cubes, it's time to oil them up with some olive oil (or any oil of your preference) and season them up! My rule of thumb is starting with salt and pepper and then deviate from there depending on what you're making and what flavor you're looking for! I have three excellent reasons why I come back to making roasted butternut squash again and again. You can cook Vickys Roasted Butternut Squash & Parsnip Soup GF DF EF SF NF using 8 ingredients and 9 steps. Here is how you cook it.
Ingredients of Vickys Roasted Butternut Squash & Parsnip Soup GF DF EF SF NF
It's 1350 ml of good vegetable stock.
You need 2 of butternut squash, cubed – bulbous parts reserved.
It's 3 of parsnips, cubed.
Prepare 2 clove of garlic, unpeeled.
Prepare of olive oil.
Prepare of salt & pepper.
It's 1 tsp of mixed herbs – thyme, oregano, basil.
It's 1 of chopped onion.
Butternut squash tastes absolutely delicious when roasted. It's tender, caramelized, and you'll catch yourself nibbling cubes of it straight off of the pan with alarming speed. Using a large, sturdy knife to cut ends from the butternut squash. Use a vegetable peeler to slice the skin from the butternut squash by holding one end of the squash with one hand and slicing with the vegetable peeler in the other.; Cut the squash in half lengthwise.
Vickys Roasted Butternut Squash & Parsnip Soup GF DF EF SF NF step by step
Place the squash, parsnip and garlic onto a baking tray, drizzle in olive oil, season with the salt and herbs and roast at gas 6 /180C/ 375°F for 20 minutes.
Fry off the onion until translucent then when the veggies have finished roasting, place into the soup pan. Squeeze the garlic out of its skin and also add to the pan.
Add the stock and season with pepper and simmer gently for 20 minutes to infuse the flavours.
Liquidise in a blender and season again if needed.
You can add some diced pear to the soup as it's simmering for more flavour, or some curry powder to spice it up.
Serve with a warm roll or crusty bread. If you feel creative, hollow out the bulbous part of the squash and use it as the serving bowl! Don't waste the seeds – dry them off and roast them in the oven. They make a delicious snack.
To do so, sprinkle inside the hollowed out squash bowls with a pinch of sugar and salt then roast on the tray you did the veggies on for 30 – 35 minutes.
If you want to do the seeds too, add them to the tray after 15 minutes. Sprinkle them with salt and toss them in the oil and herb residue.
Ladle the soup straight in and sprinkle some of the roasted seeds on top for garnish. The bowls are edible. Don't be afraid to eat the skin. It's so tender after roasting.
Sweet and Spicy Roasted Butternut Squash — Spice up oven roasted butternut squash with a combination of maple syrup and Sriracha. Instructions To Make Roasted Butternut Squash Cubes: Cut the squash. Peel and cut the butternut squash into your desired size of cubes. Drizzle the diced squash with a tablespoon or two of oil, then toss until evenly coated. Arrange the squash in an even layer (no overlapping!) on a large baking sheet.