Sweet Potato Soup (vegan- and paleo-friendly). #soupcontest. The sweet potatoes give the soup a creamy texture so you don't need to add any cream or milk! Welcome to a brand new year—a fresh One of the first steps to healthy living is to feed my body with nourishing food, and this carrot and sweet potato soup is exactly what I need to kick off the new year. Boy do I have a recipe for you today!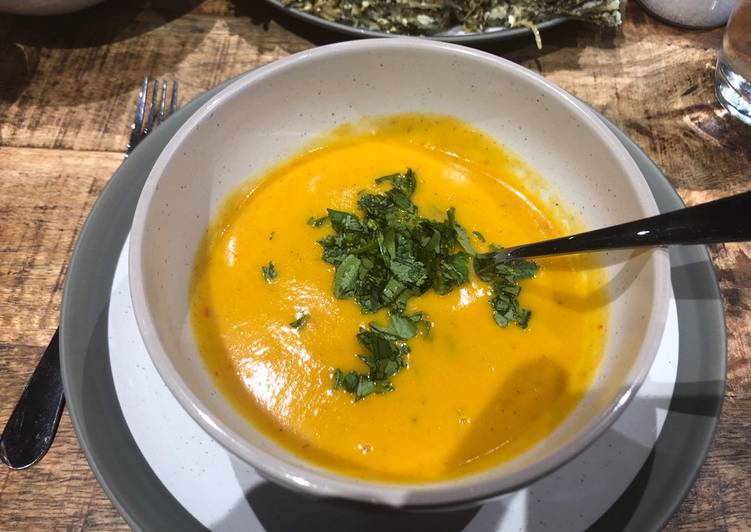 Looking for a way to use them up? Our Paleo Ginger, Carrot and Sweet Potato Soup is sweet, creamy, and slightly spicy with an exotic flair. This sweet potato recipe can be easily modified to be vegan or vegetarian (simply replace the chicken broth with vegetable broth). You can cook Sweet Potato Soup (vegan- and paleo-friendly). #soupcontest using 16 ingredients and 10 steps. Here is how you achieve that.
Ingredients of Sweet Potato Soup (vegan- and paleo-friendly). #soupcontest
Prepare 6 of sweet potatoes (medium).
You need 3-4 of carrots (medium).
Prepare 2 of onions (small to medium).
Prepare 2-3 of red peppers.
It's 3-4 cloves of garlic (more to taste).
You need 1 litre of vegetable stock.
You need 1 cup of white wine (optional).
It's 2 cubes of vegetable stock (optional – for more intense taste).
Prepare 2-3 cups of water (as needed to get the right consistency).
You need 1 table spoon of cumin.
Prepare 1 table spoon of parsley.
It's 1/2 table spoon of ground coriander.
Prepare 1/2 tea spoon of chilli.
You need to taste of Salt and pepper.
You need of For garnish: chopped fresh coriander.
You need of For garnish: yoghurt or cream (optional).
This vegan macadamia and roasted sweet potato soup has a delightful creamy texture and mind-blowing flavor for a stunning holiday appetizer or light dinner. Sweet potatoes calm inflammation in brain and nerve tissues, and ginger and turmeric help ease joint pain and swelling. The perfect plant-based main or side. Everyone needs a good lentil soup in their back pocket for days when you don't really feel like cooking but want something nourishing on the table fast.
Sweet Potato Soup (vegan- and paleo-friendly). #soupcontest instructions
Roughly chop onions and garlic. Add olive oil to the pan and saute onion and garlic for a few minutes until golden brown, making sure they don't burn..
Add spices and sauté for a couple of more minutes until they blend well with onion and garlic. This will bring out their aroma..
Add 750 ml of vegetable stock to the pan. Add sweet potato and carrots, peeled and roughly chopped. Make pieces smaller if you need them to cook fast..
Add water if needed. Add stock cubes..
Bring to a boil then reduce heat so the liquid simmers but doesn't evaporate too much. Cook until sweet potatoes are soft and a fork can go through them a easily..
Add sliced red peppers. Add wine if you wish to. Simmer until red peppers soften..
Turn of the heat and let cool for a bit..
Purée in a food processor using up all the liquid from cooking. If the mixture is too thick, you can add a bit of water..
Transfer the soup to a pan. And mix to even out..
Serve with chopped coriander leaves and/or a dash of cream or yogurt on top..
Thick, hearty and creamy Vegan Potato Soup. It's really simple to make and very budget friendly. Simmer until the potatoes are starting to break down and the soup is thick and creamy. So simple, and such a lovely family dinner, plus it reheats perfectly so leftovers are great for enjoying throughout the. If you like sweet potatoes or sweet-tasting foods in general, you will love this recipe.