Recipe: Yummy Summer Pea Soup
Summer Pea Soup. Unlike split pea soup, this soup uses frozen peas (Petite Peas are available at Trader Joe's), and it cooks up in less than half an hour. It's just as good cold as hot, so it's ideal for the warm days of summer. An infusion of mint in the broth adds a delicious touch to the flavor of the peas.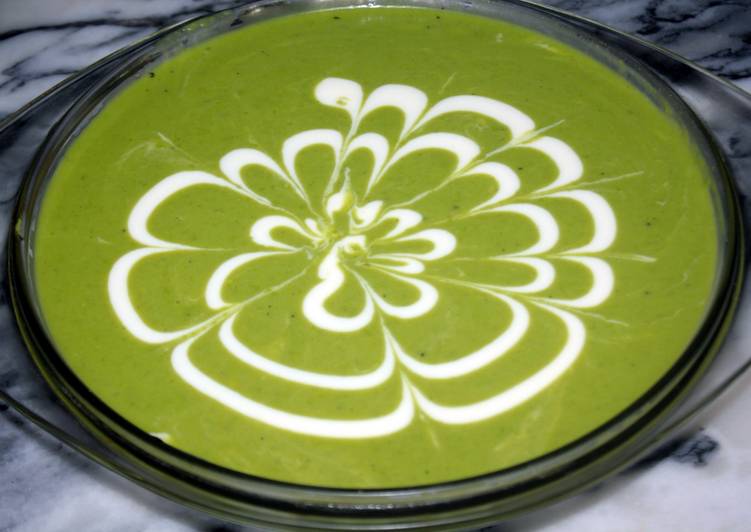 Fresh summer peas (you can even use frozen), and garden mint is a match made in heaven; their combination in any recipe is delicious. In summer, a light pea soup feels totally right – the watercress in this recipe adds a mustardy bite. Heat a large saucepan and pour in a little olive oil. You can have Summer Pea Soup using 6 ingredients and 3 steps. Here is how you achieve it.
Ingredients of Summer Pea Soup
Prepare 3 tbsp of shallot.
Prepare 1 1/2 tbsp of unsalted butter.
It's 2 cup of low sodium chicken broth or vegetable broth (for vegetarian option).
Prepare 2 of mint about 6 inches in total steam length.
You need 1 lb of of frozen petite green peas.
You need 1/4 can of heavy cream.
Throw in the chopped onion and celery. A light, silky smooth split pea soup IS possible. Hold the ham, add spinach and pesto, and finish with roasted corn and peppers for a fresh summer meal. Add the chicken stock, increase the heat to high, and.
Summer Pea Soup instructions
In a medium saucepan (1 1/2 to 3 quart) melt the butter on medium heat. Add shallots and cook until softened but not browned, a couple minutes.
Add the broth and mint sprigs to the shallots, increase the heat and bring to a boil. Add the frozen peas and salt and pepper to taste. return to a boil, reduce heat and simmer until the peas are just tender, 3 to 5 minutes..
discard the mint and puree the soup in a blender until completely smooth. blend in the cream. taste and correct seasoning. Served garnished with creme . Good Luck and Bom Apetie.
These light soups make for a perfect summer lunch. Our selection includes vegan and gluten-free options such as gazpacho, pho, ramen and vegetable soup.. Still, chilled options such as Gazpacho and pea soup are so easy to make! So, don't give up on soup this summer! Choosing soup as a meal is one of the easiest ways to stay healthy this season.
---