Recipe: Yummy Cucumber and asparagus soup
Cucumber and asparagus soup. Remove the asparagus and rinse under cool water. Transfer the cooled asparagus to a blender or food processor. Add the Vegetable Broth, cucumbers, and dill.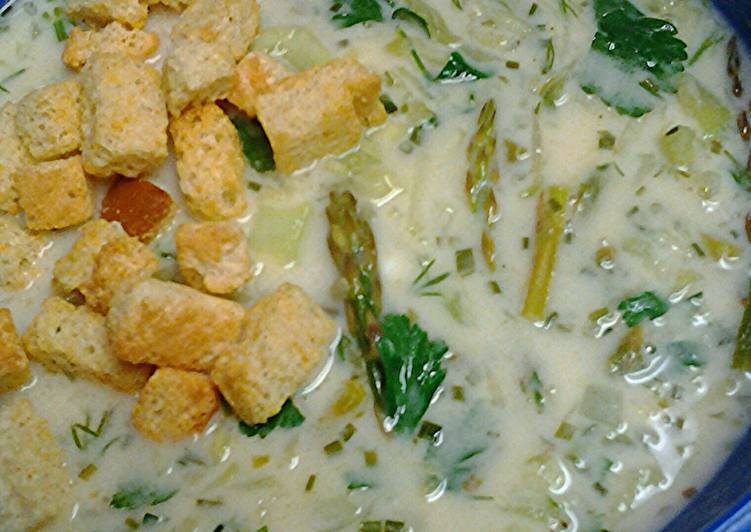 I found a man at the local farmers market that makes fresh goat cheese. I used a spring onion and cucumber flavored goat cheese. This creamy asparagus soup is made without heavy cream — just vegetables, broth, and a Parmesan cheese puréed to silky perfection. You can cook Cucumber and asparagus soup using 11 ingredients and 5 steps. Here is how you achieve that.
Ingredients of Cucumber and asparagus soup
You need 1 1/2 cup of fresh chopped asparagus.
Prepare 6 cup of grated and chopped cucumbers.
You need 2 cup of plain yogurt.
Prepare 2 quart of vegetable broth.
You need 1/3 cup of fresh chopped dill.
It's 1/3 cup of fresh chopped parsley.
Prepare 2/3 stick of butter.
Prepare 1/3 cup of chives.
You need 2/3 tsp of salt.
Prepare 2/3 tsp of granulated garlic powder.
Prepare 1/2 tsp of rubbed sage.
It's perfect for early spring when asparagus is in peak season and there's still a chill in the air. Transfer the soup to a blender. Add avocado and parsley; blend on low speed until smooth. (Use caution when pureeing hot liquids.) Pour into a serving bowl and stir in yogurt. Velvety asparagus soup, lovely green color, great with crunchy rolls.
Cucumber and asparagus soup instructions
Take butter and asparagus and fry in a deep pan.
Add garlic amd salt cover and simmer.
Add the broth after 7 minutes of simmering add cucumbers.
Add the yogurt after the cucumbers are bubbling stir well add chives, parsley, sage, and dill cover.
Stir after the soup bubbles cover cook 3 minutes remove from heat you can serve or chill serve cold. I served with cheese and buttered croutons..
My friend gave me this recipe, it originally used chicken broth. When my daughter became vegetarian, I modified it with vegetable broth instead! This soup will tempt even asparagus haters! Combine cucumber, sour cream, yogurt, vegetable broth, and garlic in a large bowl; blend together using an immersion blender until smooth. Heat the butter and oil in a large saucepan until foaming.
---