Chicken tortilla soup. Chicken Tortilla Soup Chicken Tortilla Soup is one of my favorites because there's so much going on. particularly at the end when you add the gorgeous toppings. In a medium stock pot, heat oil over medium heat. Saute onion and garlic in oil until soft.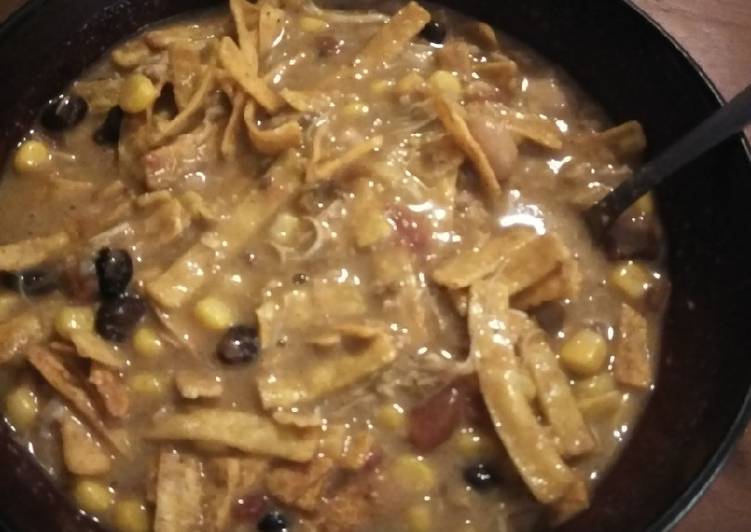 Once the onions have softened add the garlic and jalepenos and cook for another minute. Combine onion, chicken broth, tomatoes, and taco seasoning in a large sauce pan; bring to a boil over medium heat. When I see chicken tortilla soup on a restaurant menu, I get excited. You can cook Chicken tortilla soup using 13 ingredients and 5 steps. Here is how you achieve that.
Ingredients of Chicken tortilla soup
Prepare 2 cups of chicken shredded.
You need 1 1/2 cups of half and half.
It's 2 tablespoons of cumin.
Prepare 2 1/2 cups of chicken broth.
It's 4 packages of taco seasoning.
Prepare 2 cans of rotel.
It's 2 cans of black beans drained n rinsed.
Prepare 1 can of white kidney beans drained n rinsed.
You need 1 can of great northern beans drained n rinsed.
You need 2 cans of corn drained n rinsed.
Prepare 2 cans of cream style corn.
It's 2 cups of cheese for garnish.
Prepare Bag of tortilla strips for garnish.
There's something about the slightly spicy broth with tender chicken, the corn and black beans, juicy tomatoes, creamy avocado, and those addictively good tortilla strips on top that I can't resist. Peel and discard charred skins from tomatoes; place tomatoes in a blender. (I like a thick soup so I use two small corn tortillas per person). Slice the corn tortillas into thin strips and fry them in some vegetable oil until they are slightly crisp. Lightly sprinkle the tortilla strips with salt if desired.
Chicken tortilla soup instructions
Turn Crock-Pot on low.
Add all ingredients except cheese tortilla strips half and half and cream style corn.
Stir ingredients thoroughly.
At end of cook cycle add cream style corn n half n half stir n let cook for half hour more.
Serve with tortilla strips n cheese.
Layer the tortilla strips in bowls. Sprinkle with chopped avocado if desired. Serve, topped with crushed tortilla chips if desired. Add broth, tomatoes, chicken, and lime juice; stir to combine. Serve soup garnished with cheese and tortilla chips.