Cream of Spinach Soup. Sauteed chopped spinach is added to a roux-thickened mixture of milk and chicken bouillon for a fast and easy-to-prepare soup. Place spinach, water, bouillon, onion, and garlic powder in a large pot over medium-high heat. Bring to a boil, then reduce heat to medium-low and simmer until onion is tender.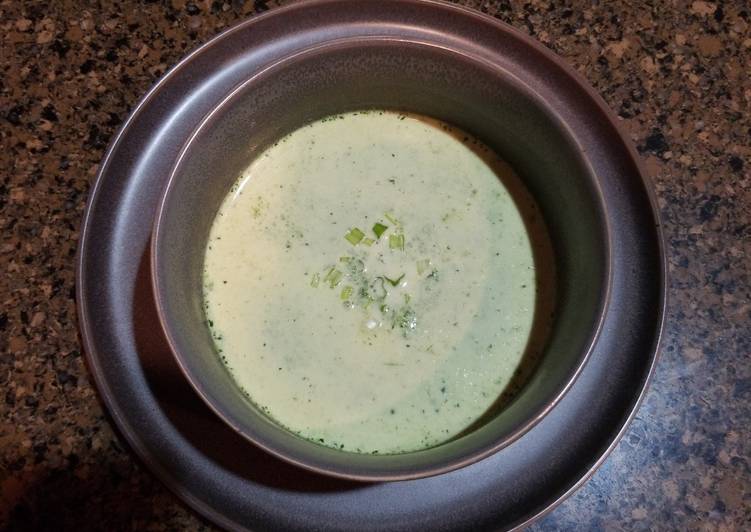 Blanch spinach: Wash well and trim tough ends while bringing a large pot of water to a boil. Salt the boiling water generously and submerge all of the spinach. Stir in flour; add salt, pepper, and nutmeg. You can cook Cream of Spinach Soup using 6 ingredients and 5 steps. Here is how you achieve it.
Ingredients of Cream of Spinach Soup
You need 1 pound of spinach, well washed, thick stems trimmed.
You need 3 of spring onions, trimmed & roughly chopped.
Prepare 3 cups of chicken or vegetable stock.
You need of Small grating of nutmeg.
Prepare of Salt and pepper.
It's 1 cup of heavy or light cream, half-and-half or milk.
Cook, stirring on med heat until bubbly. This soup is super creamy in texture, but it contains very little actual cream. The butter and flour mixture — what's called a roux — gives it body and silkiness. A couple of weeks ago my farmer delivered our last share of the summer season.
Cream of Spinach Soup step by step
Place trimmed spinach and chopped spring onions in a large saucepan..
And stock to the saucepan and turn heat to medium high. Bring to a boil, and lower heat so mixture barely bubbles. Cook, stirring occasionally, until spinach is very tender, about 10 minutes..
Turn off heat, add nutmeg and a sprinkling of salt and pepper, and let cool at least a few minutes..
Pour soup into a blender, in batches if necessary, and carefully purée. (Alternatively, use an immersion blender directly in the pan which is what I do when blending soups.) Return to pan, add cream, and over medium-low heat, reheat gently, stirring occasionally. When soup is hot, adjust seasoning, and serve..
Garnish with a few pieces of the chopped onions or a swirl of cream (optional)..
In it was a big bag of spinach, and as soon as I saw it, I knew immediately what I wanted to make—Spinach Soup. Although we haven't had a hard freeze in Minneapolis yet, we've had plenty of cool fall nights. And there's nothing like a bowl of Cream of Spinach Soup to warm you up and get some delicious greens in you! Add the spinach and stir until wilted. Add the lemon juice and season with salt and pepper.