Mom's Crock Pot Creamy Chicken Noodle Soup (From Carcass).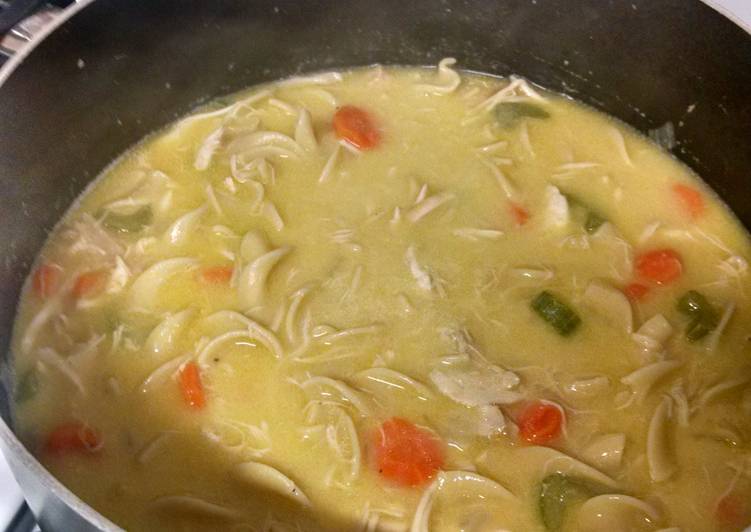 You can have Mom's Crock Pot Creamy Chicken Noodle Soup (From Carcass) using 9 ingredients and 13 steps. Here is how you achieve it.
Ingredients of Mom's Crock Pot Creamy Chicken Noodle Soup (From Carcass)
It's 1 of whole chicken carcass (the more meat the better).
Prepare 1 can of Cream Of Chicken Soup.
You need 1 of Water.
You need 1 tbsp of Butter (or oil).
It's 1 cup of Carrots.
Prepare 1 cup of Celery.
You need 1 cup of Minced onion (fresh).
You need 2 cup of Uncooked Egg Noodles.
It's 1 of Salt & Pepper to taste.
Mom's Crock Pot Creamy Chicken Noodle Soup (From Carcass) step by step
I use a crock pot, but you want to stick the carcass in the crock pot (or pot with lid) and fill with enough water to cover at least 3/4 of the carcass but not the whole thing..
Cover and simmer in crock pot on HIGH for about 2-3 hours. (Once it starts boiling, it usually has been in the water long enough that it's done.) If using a pot, simmer on low for at least 60 mins. Once the water starts to reach a darker yellow color and the carcass falls apart its done..
Pull the carcass out of the water, put aside. Make sure to grab all the large bones and chunks..
Grab a pot (or a different large enough pot to hold all the water if you're not using a crock pot) and carefully pour the water through a strainer to catch what little chicken and bone bits may be left in the water. Return the water to the crock pot and put the large pan on your stove top. (Keep it in the pot you just strained it into if you used a stove top).
Slice carrots, celery and mince onion. Keep onion separate from carrots and celery as it's going in later than the other two..
By this time your chicken should be cooled enough to pull the meat off the carcass. Be sure to feel ALL the meat you pick off so you don't miss any bone pieces..
Heat the pot on the stove top to medium high with either 1 tbsp oil or butter. After heated, put in carrots and celery and sauté for about 8-10 mins, you don't want it completely soft but starting to soften..
Add onion and stir often with celery and carrots. Once the onions are tender and start to turn clear, add the chicken meat & the "chicken stock" water from the crock pot to the stove pot. Bring to a boil..
Add egg noodles, cover and turn down to medium heat. Boil until the noodles are done, stirring occasionally..
Add cream of chicken soup, stir thoroughly..
Add salt and pepper to taste. Everyone is different, that's why I didn't use a measurement..
Serve with rolls or a salad and enjoy!.
(If you don't have a carcass I'm sure about 2 chicken breasts or so would be right for the amount of meat. Just boil and shred instead, then use chicken broth instead. Doesn't taste as good though.).