Split Pea Soup (crockpot). Can you overcook split pea soup? Split peas take a very long time to soften, so you don't have to worry about overcooking them. For a slightly thicker split pea soup, remove about a cup of cooked soup, blend until smooth and then add it back into the pot.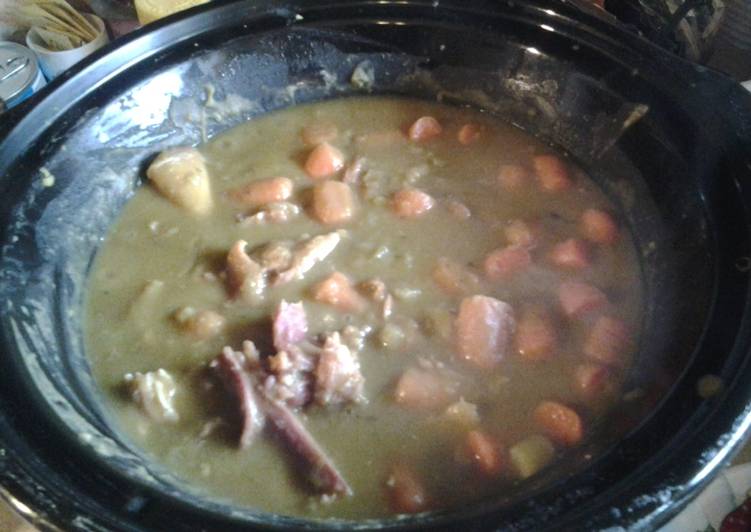 All you need is a slow cooker, a ham bone or. This is a hearty split pea soup has a flavorful ham bone cooked with carrots, potatoes, onions, and a pinch of marjoram. Making Split Pea Soup in the Slow Cooker is so easy and perfect for busy weeknight meals. You can have Split Pea Soup (crockpot) using 9 ingredients and 6 steps. Here is how you cook it.
Ingredients of Split Pea Soup (crockpot)
Prepare 1 of meaty Ham bone.
Prepare 1 lb of bag dry split Peas.
Prepare 6 of cups Water.
It's 1 large of Onion, chopped.
It's 4 stick of Celery, sliced.
Prepare 5 of or 6 Chicken bullion cubes.
You need 1 tsp of Thyme, Garlic powder and Black pepper, each.
You need 1/2 tsp of Red pepper.
It's 1 of bag mini Carrots.
It's also freezer friendly, so you can make a batch and freeze the You can see my stove top Pea Soup Recipe, and I also have an Instant Pot Pea Soup version which is great if you want to speed this up! Wondering how to make split pea soup in a crockpot? This split pea and ham soup slow cooker recipes seriously couldn't be any easier. You literally add all the ingredients to the slow cooker and then walk away while it cooks up one of the most fabulous, heart-warming.
Split Pea Soup (crockpot) step by step
Slice meat from ham bone, remove visible fat. Add bone and meat to crockpot..
Add 6 cups water, and rest of ingredients except carrots..
Cover and cook on high 5 hrs..
Meanwhile cook carrots separately until soft..
After 5 hrs remove bone from pot, break up big chunks of meat, then add cooked carrot..
Serve with bread & butter..
Hearty, protein packed split pea soup made with tender split peas, flavorful ham and fresh vegetables. It's easy to make and perfect for the cold weather. Homemade Split Pea Soup, just like mom made growing up! This hearty, protein packed, comforting soup is made with tender split peas, flavorful. I'm pretty sure there is no way to make this soup look appetizing; in fact it was the color that turned me off to split pea soup for years.