Recipe: Tasty Chicken Corn Soup
Chicken Corn Soup. I made this soup for my grand kids and they loved it. Now they have to hide it from their parents. In a large stock pot cover chicken and onion with water.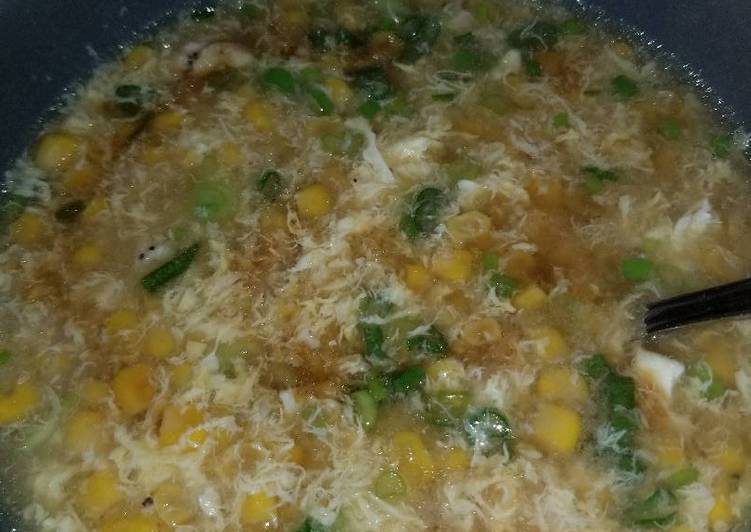 Perfect to use up that little bit of leftover chicken, or just leave it out and make this vegetarian, it is truly just as delicious. Chinese chicken and corn soup belong to the thick soup category, which is called 羹. Thick soup can be as exotic as shark's fin soup, or as familiar as the home cooked egg drop soup. You can cook Chicken Corn Soup using 10 ingredients and 6 steps. Here is how you achieve it.
Ingredients of Chicken Corn Soup
You need 2 cups of water or chicken or vegetable broth or stock.
You need 1 can of corn drained and rinsed.
It's 1 tsp of soy sauce.
It's 1 tbsp of Chinese cooking wine (optional).
You need 1 tsp of corn starch mixed in 1 tbsp of water.
Prepare 1 of egg lightly beaten.
Prepare 1 cup of cubed or shredded cooked chicken OR.
You need 1 cup of small cubed uncooked chicken.
Prepare to taste of Salt and pepper.
It's of Chopped scallion.
Chicken and corn soup is the grander version of egg drop soup, enhanced with chicken meat and sweet corn. In a large pot over medium heat, combine chicken, water, onions, celery, salt, nutmeg and pepper. Remove the breast and strain the "cob water" into the soup. Remove the skin and bone from the.
Chicken Corn Soup instructions
Heat wok or sauce pan over high heat. (IF USING COOKED CHICKEN, SKIP TO STEP 3).
If using uncooked chicken, place in wok and cook for 3-5 minutes..
Add the first 5 ingredients to wok and bring to a boil..
Lower heat and cook for 5 minutes or until soup thickens. Taste for seasoning and add salt and pepper if necessary..
Turn off heat and drizzle in egg while stirring (This will cook the egg and thicken soup further)..
If using pre-cooked chicken, add to soup now and garnish with chopped scallion..
Add the broth, corn, chicken, parsley, salt, tarragon and pepper. While chicken is cooling, strain broth through a fine sieve. Debone chicken and cut meat into bite-sized pieces. Add corn (frozen works fine)to broth and bring to a boil. If you are thinking soup, We've got you covered.
---