Recipe: Delicious Beef and Barley Vegtable Soup
Beef and Barley Vegtable Soup. Enjoy Our Deliciously Crafted Well Yes!® Tomato and Barley Soup Today. This Beef Barley Soup is an easy, hearty dinner idea that is loaded with tender chunks of beef, barley and vegetables. It's a healthy meal that is perfect for making ahead for a busy week!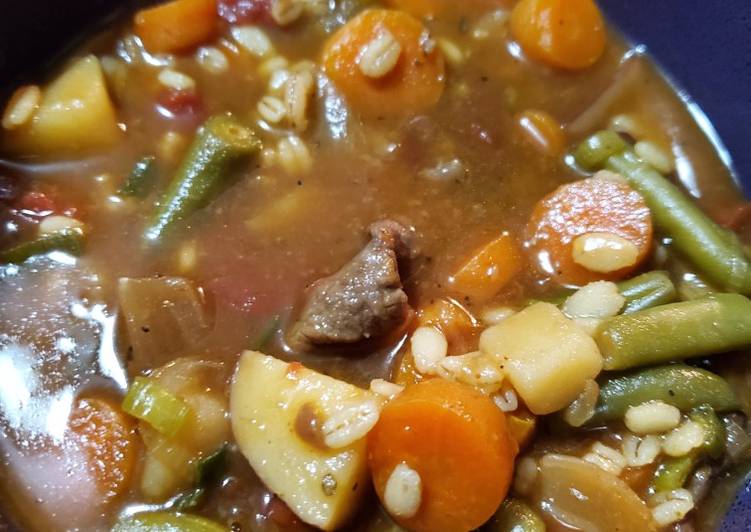 Add all ingredients except the peas and barley. Crockpot: Cook ingredients on low overnight and/or throughout the day. Turn to high and add peas and barley for last hour. You can have Beef and Barley Vegtable Soup using 21 ingredients and 7 steps. Here is how you cook that.
Ingredients of Beef and Barley Vegtable Soup
Prepare 1 pound of Beef Bottom Round Steak (Thin).
You need 3 Tablespoons of Flour.
It's 4 teaspoons of Course Salt.
Prepare 2 teaspoons of Black Pepper.
Prepare 2 Tablespoons of Oil (olive or avocado).
It's 1 Tablespoon of Garlic (minced).
It's 1 of Yellow Onion (chopped).
It's 2 Stalks of Celery (minced).
Prepare 4 of Carrots (chopped).
It's 1 cup of Red Wine.
You need 2 Tablespoons of Soy Sauce.
Prepare 6 cups of Beef Broth.
You need 4 of New Potatoes (diced).
Prepare 1 can of Diced Tomatoes.
It's 1 can of Green beans.
Prepare 1/2 teaspoon of Cumin (ground).
Prepare 1/2 teaspoon of Oregano (leaves).
Prepare 3 teaspoons of Season Salt.
It's 1 cup of Quick Barley.
It's 1 package of Brown Gravy.
You need 2 of Green Onions.
Tips for this soup recipe: Remember that when making a roast in your slow cooker, be sure to let it cook until it's fork tender. Rinse green beans and corn with cold water to separate and partially thaw. Mix green beans, corn and remaining ingredients in cooker. In a Dutch oven, brown beef in oil; drain.
Beef and Barley Vegtable Soup step by step
Add oil, garlic, onion, celery, and carrots to 5 or 6 quart pot on medium/high heat..
Chop beef into 2 inch strips, sprinkle with salt and pepper on both sides and cover in flour. Add beef to pot with vegetables and cook until brown, stirring occasionally..
Add red wine and soy sauce to pot and stir to deglaze. Add beef broth, green beans, potatoes, tomatoes, to pot and bring to a boil..
Add cumin, oregano, and season salt. Reduce heat, cover and simmer for 30 minutes..
Stir gravy package into soup and add barley. Cover and simmer 10 minutes..
Add green onions to soup and simmer uncovered for 5 minutes..
Allow to cool for 10 minutes and serve..
Stir in the broth, water, barley, salt and pepper. Stir in the water, broth, barley, bay leaf and seasonings. In a Dutch oven, cook the beef, celery and onion over medium heat until the meat is no longer pink; drain. Add the remaining ingredients; bring to a boil. Add water, broth, tomatoes, corn carrots, bay leaves, and garlic.
---