Shio-koji Miso Soup with Pork and Sweet Potatoes. Fermentation is an indispensable process in miso production. The enzymes also decompose starches to draw out the sweetness from ingredients. Tonjiru (豚汁) is a hearty miso soup with pork slices and vegetables.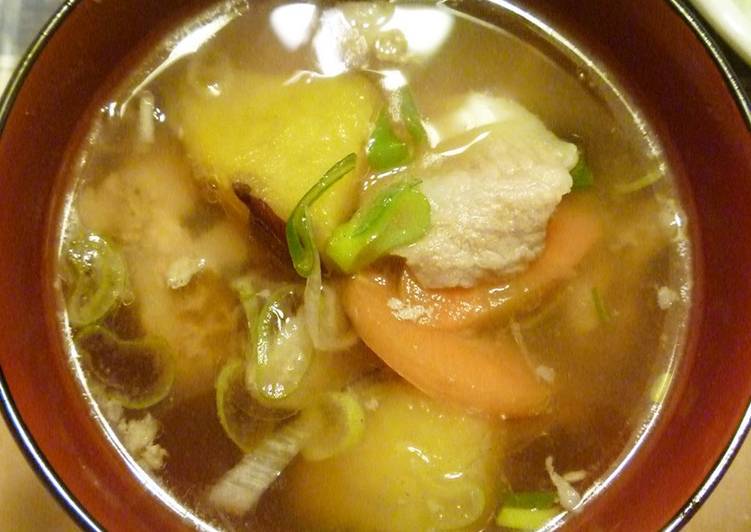 Whisk together the miso and water. Split the sweet potatoes lengthwise, and place on a parchment-lined baking sheet. Spread some of the miso mixture on the cut side of each sweet potato, then return to the oven to. You can have Shio-koji Miso Soup with Pork and Sweet Potatoes using 9 ingredients and 3 steps. Here is how you cook it.
Ingredients of Shio-koji Miso Soup with Pork and Sweet Potatoes
Prepare 200 grams of Sweet potatoes.
It's 1/2 of Carrot.
It's 200 grams of Pork sliced and chopped.
It's 1 of Japanese leek.
It's 1/2 of packet ○ Bonito based dashi stock.
Prepare 1 tbsp of ○ Shio-koji.
Prepare 1 of Miso.
It's 1 of Sesame oil.
You need 1 of Yuzu pepper paste (optional).
Creamy sweet potatoes, spicy ginger, and sweet and salty miso all meet in this easy, delicious soup that my family has been enjoying the last few days. This soup makes an easy weeknight meal all on its own, especially if you already have a few leftover roasted sweet potatoes in the fridge. Tonjiru is a hearty pork and vegetable miso soup. For this Tonjiru, I used Enjuku Koji Miso from Hikari Miso®.
Shio-koji Miso Soup with Pork and Sweet Potatoes instructions
Cut the washed sweet potatoes, carrot into bite-sized pieces, and do the same with sliced and chopped pork. Julienne the leek..
Put 3 servings of water in a pot, add all the ingredients and ○ seasonings, and bring to a boil. When it comes to a boil, dissolve the miso..
Add a little sesame oil to finish. Add yuzu pepper paste if you prefer..
I love the hint of sweetness that Koji Cut the potatoes into ¼ inch thick slabs and then cut into sticks. Add the sweet potato mash and miso, and continue cooking until the puree is warmed. Return to the heat and warm, whisking in the milk. Bring Dashi to a boil and add onion and potato. Reduce heat to low and dissolve miso paste in the Dashi.