Bak Choy With Chinese Wine In Pork Soup. The Best Chinese Pork Soup Recipes on Yummly Bring the water to a boil, and immediately turn the heat down to low. After cooking in the soup for so long, the ribs are melt-in-your-mouth tender and perfect with a little soy sauce.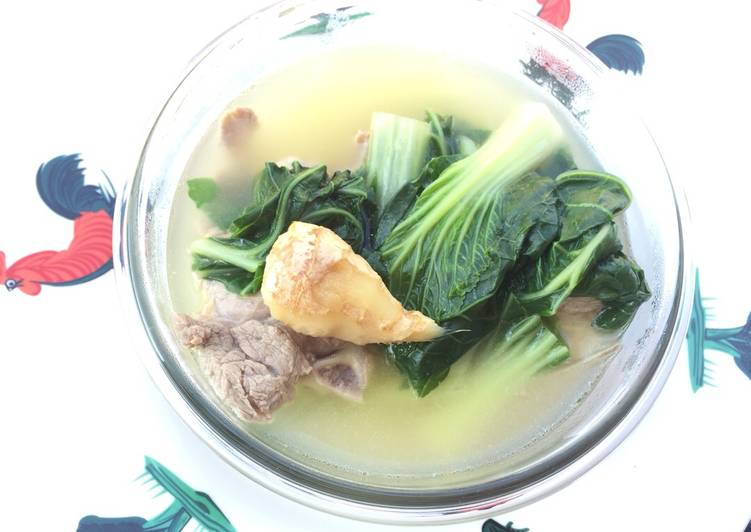 Different pork cuts create totally different soup dishes. Mincing or grounding pork is one of the most common and most versatile way to prepare pork in The Cantonese has a soup dish called harm choy tong which means salted vegetable soup. Chinese Noodle Soup is incredibly quick and easy – if you know the secret seasonings! You can have Bak Choy With Chinese Wine In Pork Soup using 6 ingredients and 4 steps. Here is how you cook that.
Ingredients of Bak Choy With Chinese Wine In Pork Soup
You need 650 gram of pork bone.
It's 3 inches of old ginger.
You need 1 of litter of water.
Prepare 1/2 tsp of Of salt.
You need 1/2 tsp of Of light soy sauce.
You need 100 ml of Shao Xing wine.
Chinese cooking wine is a key ingredient to transform store bought chicken broth into a. Chinese Meatball Soup w/Bok Choy. by: BeijingRose. The barbeque marinade in this Chinese-inpsired recipe is easy to make and does an amazing job flavoring the pork tenderloin. Place pork in a large resealable plastic bag set in a shallow dish.
Bak Choy With Chinese Wine In Pork Soup instructions
Quick blanch pork bone then set aside.
In another pot of water bring it to a boil then add in the pork with ginger and simmer for 25 minutes.
Add in the bak Choy and season it then simmer for 5 minutes then add in the Shao xing wine and off heat.
Enjoy a clear soup with some white roxe.
Place a rack in the baking pan. Carrots, sweet potato, bok choy, and red cabbage make this soup healthy and filling! When you've got a cold, nothing sounds better than I'm loading up on a beefy and more spice-tastic (I think I made up a new word) recipe from the Far East. Wafer thin Bak Kwa (Chinese Pork Jerky) is a must-have for the Chinese New Year. Make your own using just a few simple ingredients and at a fraction of the cost.