Crockpot Tortellini Soup. I made this a Crockpot creamy tortellini soup, but, with that said, you can leave the cream out and My Crockpot was pretty full by the time I added the tortellini. You can make this soup without the. Slow Cooker Creamy Tortellini Soup is pure comfort food, loaded with vegetables, Italian sausage and cheese tortellini!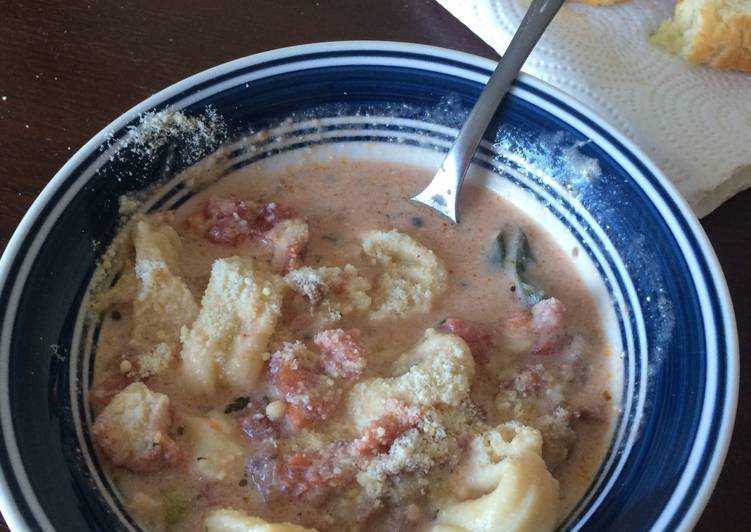 It's also a great way to enjoy tortellini, just like this delicious Italian Tortellini Salad (One Bowl) and this Tomato Tortellini. It's still Soup Weather, and I'm loving it!! A crockpot lasagna soup made with cheese-filled tortellini. You can cook Crockpot Tortellini Soup using 6 ingredients and 5 steps. Here is how you achieve that.
Ingredients of Crockpot Tortellini Soup
Prepare 1 lb of Italian Sausage.
Prepare 20 oz of Frozen Tortellini.
Prepare 32 oz of Chicken Broth.
Prepare 2 can of Seasoned Diced Tomatoes.
It's 8 oz of Cream Cheese.
Prepare 2 cup of Fresh Spinach.
This soup is simple to make, tastes just like lasagna in soup form, and is a sure crowd pleaser! Crockpot tortellini soup is a creamy bowl of comfort food that everyone will love. Quick and easy to throw together with frozen pasta stuffed with cheese or meat! We love cheese tortellini and recently turned it into this easy spinach tortellini soup.
Crockpot Tortellini Soup instructions
1.Take your cream cheese out of the fridge and let it sit while you brown the sausage..
2. Add the sausage and tortellini to your crockpot. Pour tomatoes, with liquid, and chicken broth over the top..
3. Add cream cheese in chunks and then your spinach..
4. Stir everything to get it all mixed up..
5. Cook on low for about 3.5 to 4 hours. Stir again before serving. Serve with Parmesan on top and enjoy!!.
We love this Vegetable Tortellini Soup from the crockpot. It's great for the fall and winter months, plus quick and easy for a weeknight. Creamy & tasty, this recipe for Crock-Pot Sausage Cheese Tortellini Soup is a great dinner and full of Italian flavors with cheesy tortellini & sausage! Crock Pot Chicken Tortellini Soup is the easiest chicken noodle soup you will ever make! It's sure to become a fall and winter staple at your house!