Masala Soup.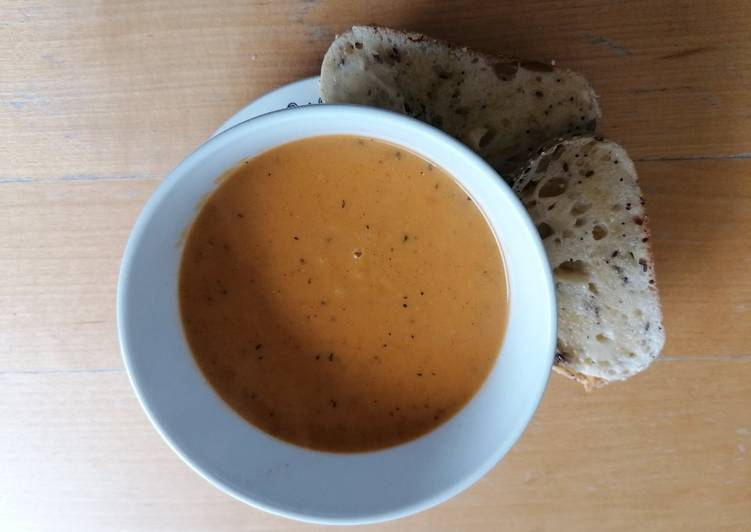 You can have Masala Soup using 19 ingredients and 8 steps. Here is how you achieve that.
Ingredients of Masala Soup
You need of Small knob of butter (or double up the oil of you want to keep it vegan).
You need 1 tsp of coconut oil.
It's 1 of heaped tsp cinnamon.
It's 1 of heaped tsp garam masala.
It's 1 of level tsp nigella seeds.
Prepare 2 of garlic cloves, finely chopped.
Prepare 2 of sundried tomatoes (can use plum or cherry if not available), chopped.
Prepare 1 of heaped tablespoon tomato puree.
It's 1 of leek – finely chopped.
Prepare 1 inch of cube fresh ginger, grated.
You need 2 of medium white potatoes, peeled and finely chopped.
You need 1 of medium sweet potato, peeled and finely chopped.
You need 2 of medium parsnips, peeled and finely chopped.
You need 1 litre of veg stock – I use bouillon (which can be vegan and low salt).
Prepare 1 cup of tinned coconut milk.
It's 1 tsp of mango chutney (optional).
Prepare to taste of Salt and pepper.
It's Squeeze of lime.
You need 1 tbsp of plain, full fat yoghurt.
Masala Soup step by step
Melt the butter and oil in a saucepan. Add the nigella seeds, cinnamon and garam masala and cook on a medium heat for 2 minutes..
Add the garlic to the pan and cook for a further 2 minutes..
Whilst the garlic is cooking, whizz up the sundried tomatoes, tomato puree, leek and ginger in a blender with a dash of boiling water. You could just grind it all together in a pestle and mortar if you dont have a blender small enough..
Add this paste to the pan and cook for 10 minutes..
Add 2 tbsps of coconut milk and mix with the paste. Mix in all your chopped veg and stir well. Cook for a few minutes, stirring..
Now add your stock and the rest of the coconut milk. Bring to the boil and simmer on a low heat with the lid on for 20 minutes, or until your veg are soft..
Add a heaped tsp of mango chutney and whizz your soup with a hand blender until it is completely smooth – I think this soup is best without any lumps!.
Add the lime juice, yoghurt and salt and pepper to taste. Stir well and serve in a warm bowl with some lovely bread – or maybe a small, warm naan bread..