Recipe: Perfect Creamy Ham and Potato Soup
Creamy Ham and Potato Soup. Deliciously creamy Ham and Potato Soup is so EASY to make! The perfect way to use up your ham leftovers. Ham soup filled to the brim with soft, tender potatoes, carrots, celery, onion, garlic and the option of making your own ham broth from a leftover ham bone!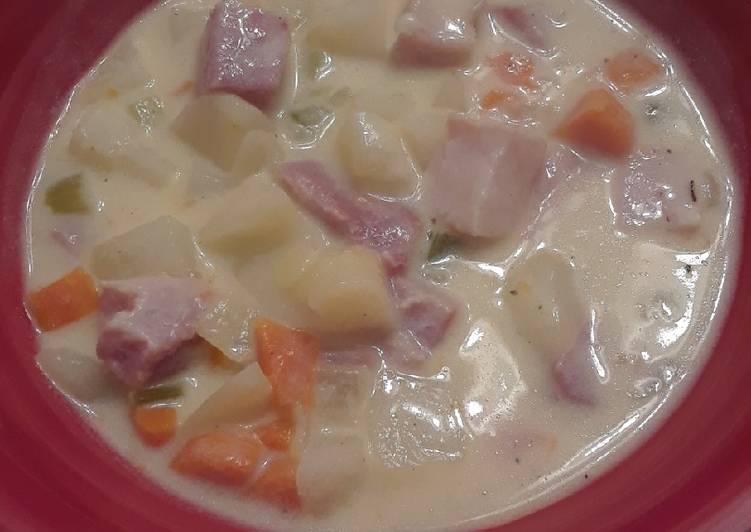 It's chock-full of veggies and garlic and lots of golden potatoes. It's the perfect use for leftover ham (or even bacon) after a big holiday meal. Combine potatoes, onion, turkey, ham, celery, carrots, asparagus, peas, and butternut squash in a large pot. You can have Creamy Ham and Potato Soup using 15 ingredients and 4 steps. Here is how you cook that.
Ingredients of Creamy Ham and Potato Soup
You need 1 tbsp. of olive oil.
It's 1 1/2 cup of chopped ham.
You need 3 tbsp. of unsalted butter.
It's 2 of celery stalks, diced.
It's 2 of medium carrots, peeled and diced.
Prepare 1/2 of yellow onion, diced.
It's 3 cloves of garlic, minced.
Prepare 3 tbsp. of all purpose flour.
You need 2 cups of unsalted chicken broth.
It's 3 cups of milk.
You need 1/2 tsp. of salt.
It's 1/4 tsp. of each pepper, poultry seasoning.
Prepare 1/4 tsp. of salt free all purpose seasoning.
You need Pinch of nutmeg.
You need 4 of small (or 2 large) russet potatoes, peeled and diced.
Pour chicken broth and water over mixture; bring to a Very good. I used chicken bouillon and all milk for the liquid in the soup. Did not have turkey, just used more ham. This Creamy Ham and Potato Soup comes together in about thirty minutes making it the ideal wholesome weeknight meal.
Creamy Ham and Potato Soup instructions
Heat the oil in a large pot or Dutch oven over medium heat. Once it's hot, add the ham and cook, stirring often, until the ham has browned up a bit. Then remove it to a seperate plate and cover the plate with foil to keep it warm..
Add the butter to the pot. Once the butter has melted, add the celery, carrots and onion with a big pinch of salt. Cook, stirring often, for 5-7 minutes, until the veggies have begun to soften. Then stir in the garlic and cook until it's fragrant, another minute or so. Increase the heat to med-high, then sprinkle the flour over the veggies and stir to incorporate it. Cook and stir for 2 minutes..
Slowly pour in the broth while stirring, then add the milk and all of the seasonings. Let it all come up to a low boil. Once it begins to boil, stir in the potatoes and return the ham to the pot, reduce the heat back down to medium and let it simmer for about 10 or so minutes, until the potatoes are fork tender. Then remove from the heat and serve..
This soup is also very good with some kielbasa or smoked sausage in place of the ham, pictured below..
It is chock full of ham, potatoes, onions, carrots and celery in a creamy lightly seasoned broth. Anytime of the year is perfect for a good warm bowl of soup. A hearty soup to take the chill off and fill your belly! This hearty Ham and Potato Soup is made with a ham shank or leftover ham bone and russet potatoes. For this recipe, I'm using Russet potatoes.
---