Recipe: Yummy Split Pea Ham Soup
Split Pea Ham Soup. This is a hearty split pea soup has a flavorful ham bone cooked with carrots, potatoes, onions, and a pinch of marjoram. Once peas are soaked, add ham bone, onion, salt, pepper and marjoram. Freezing Split Pea and Ham Soup: Portion the soup into freezer bags or freezer-safe containers or fill an airtight container as much as possible (to avoid too much air being trapped) and freeze stacked on top of each other.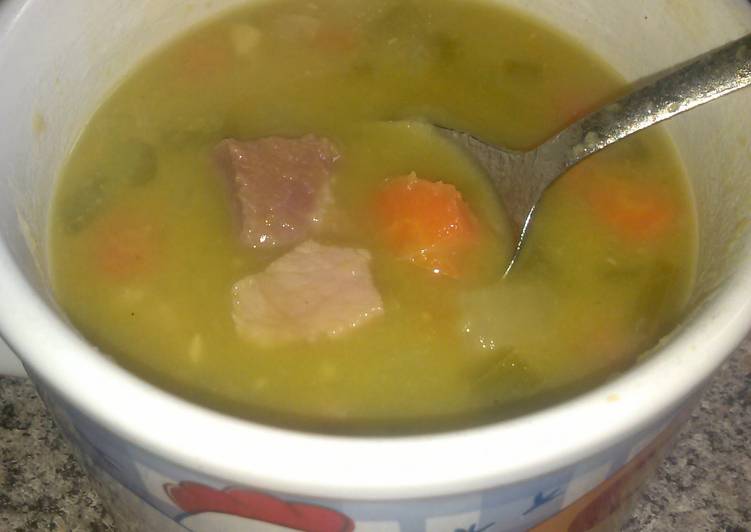 Pea soup or split pea soup is soup made typically from dried peas, such as the split pea. It is, with variations, a part of the cuisine of many cultures. It is most often greyish-green or yellow in color depending on the regional variety of peas used; all are cultivars of Pisum sativum. You can cook Split Pea Ham Soup using 12 ingredients and 7 steps. Here is how you cook that.
Ingredients of Split Pea Ham Soup
You need of In Dutch Oven.
Prepare 1 tbsp of olive oil.
Prepare 1 tbsp of butter.
It's 1 cup of chopped onion.
Prepare 1 cup of chopped celery.
Prepare 1 cup of chopped carrots.
It's 2 clove of chopped garlic.
Prepare 2 cup of dried green split peas (rinsed and sorted through to insure no little rocks are going in your soup).
You need 2 1/2 tsp of Vegeta (seasoned vegetable salt).
You need 8 cup of chicken broth.
You need 1 of dried bayleaf.
It's 1 lb of smoked kielbasa, cut into large chunks. so its easy to remove before blending soup. Slice up after cooking.
This split pea and ham soup slow cooker recipes seriously couldn't be any easier. You literally add all the ingredients to the slow cooker and then walk away while it cooks up one of the most fabulous, heart-warming, and rich split pea soups you've ever had the fortune to eat. Made with dried "split" peas, and cooked up with flavorful, smoky ham hocks, split pea soup is warm, satisfying, and great for leftovers. Split pea soup can be kept refrigerated for about a week, or frozen for up to three months.
Split Pea Ham Soup step by step
Sautee butter, oil, celery, carrot, onion and garlic over medium heat, until onions are translucent..
Add chicken broth, green split peas, bayleaf and vegeta.
Add smoked kielbasa.
Bring up to boil, then reduce to a low simmer. Simmer for 1 1/2 hours, covered, stirring occasionally (or until peas are somewhat falling apart and tender).
NOW I like my soup a little chunky, but some like it completely blended. I just use my immersion (stick) blender and pulse it a few times, until I reach a desired consistency. You can use a blender too, if you would like. REMOVE BAYLEAF AND MEAT BEFORE BLENDING.
Slice up kielbasa. Add back to soup. Enjoy!.
You can substitute smoked ham hock, cubed ham steak, reg sausage…whatever you choose..
To freeze, cool the soup completely, then transfer to freezer containers or bags. Use leftover ham to make split pea soup prep even easier. You'll turn to this split pea soup with ham all winter long. For a different spin on split pea soup, try this recipe. The flavor is peppery rather than smoky. —Barbara Link, Rancho Cucamonga, California.
---