Kapustnica (Slovakian Sauerkraut & Sausage Soup).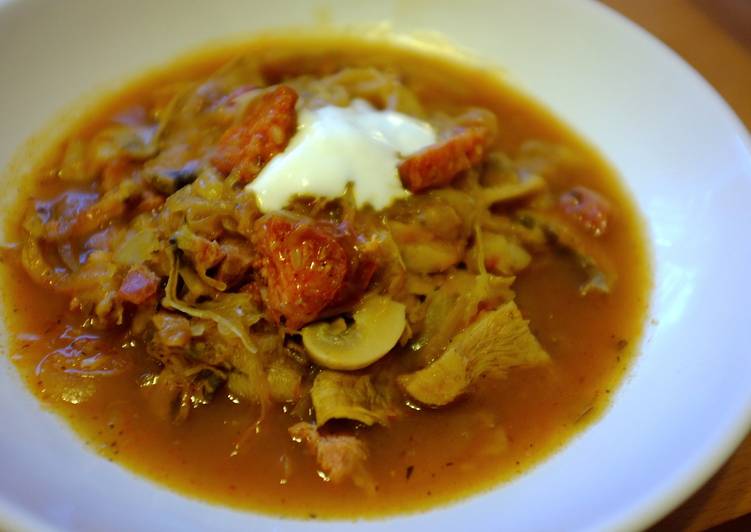 You can have Kapustnica (Slovakian Sauerkraut & Sausage Soup) using 14 ingredients and 10 steps. Here is how you cook it.
Ingredients of Kapustnica (Slovakian Sauerkraut & Sausage Soup)
You need 150 g of smoked pork or ham, or ham hocks.
You need 1/4 tsp of allspice or nutmeg.
Prepare 1 of bay leaf.
It's 1/2 tsp of caraway seeds.
Prepare 1 cup of sauerkraut (about 400 g).
Prepare 1 of small onions, sliced thinly.
It's 2 tsp of paprika powder.
You need 1 clove of garlic, minced.
Prepare 50 g of dried mushrooms.
Prepare 1 of Hungarian or Polish-style smoked sausage (1 small or 1/2 large).
You need 1/2 tsp of sugar.
You need 1/2 Tbsp of vinegar.
You need 1/2 tsp of dried marjoram.
Prepare to taste of Plain yogurt, sour cream or cream (for garnish).
Kapustnica (Slovakian Sauerkraut & Sausage Soup) step by step
This is what the smoked ham hock and sausage in Slovakia looks like. You can probably use any kind of smoked ham or non-sweetened smoked pork (maybe even smoked bacon?) as a substitute..
Add smoked ham, 800 ml (3.5 US cups) water, bay leaf, pepper, allspice, and 1/2 tsp salt to a pot. Bring to a boil, turn heat to low, cover with lid and simmer for 30 minutes..
Meanwhile, slice onions thinly. In a separate frying pan, heat 1-2 Tablespoons oil and sauté onions until translucent, but not brown (about 5 minutes)..
When onions are soft, mix in 2 tsp paprika and stir into onions. Remove from heat..
Add sauerkraut to the pot, with a little bit of the juice, after initial 30 minutes is up..
Next stir in the onions, mushrooms and garlic. Cover with lid and simmer for another 30 minutes..
Remove ham from soup. Cut meat from bone (if any) and cut off any of the thick pieces of skin. Chop up the meat into small pieces..
Return ham to pot and simmer another 20 minutes. If you have some red wine, add 1/2 cup or so to give the soup even more flavor!.
Cut up the sausage and add it to the pot along with the vinegar, sugar and marjoram (or other herbs like herbes de Provence, thyme, etc.)..
Cook for another 5-10 minutes. Add a little more vinegar, salt, pepper, and/or sugar to adjust to your taste. Serve with a dollop of sour cream, plain yogurt, etc. over top..