Leftover Ham & Frozen Pea Soup.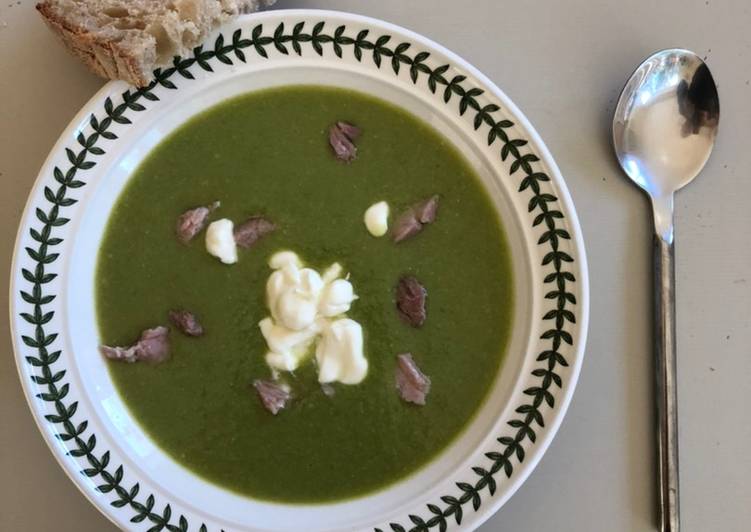 You can cook Leftover Ham & Frozen Pea Soup using 9 ingredients and 8 steps. Here is how you cook it.
Ingredients of Leftover Ham & Frozen Pea Soup
It's 1 tbsp of oil.
It's 1 of onion, chopped.
You need 2 cloves of garlic, crushed.
You need 1 litre of ham stock. I use the stock from cooking a gammon joint but ham stock cubes are fine. Chicken or vegetable stock cubes are perfectly acceptable but will modify the taste.
You need 1 of medium potato, diced.
Prepare 250 g of cooked ham, diced.
Prepare 600 g of Frozen peas.
Prepare 1 of dollop per soup bowl crème fraîche.
It's to taste of Seasoning.
Leftover Ham & Frozen Pea Soup step by step
Heat the oil in a stock pot or large saucepan and gently fry the onions for 3 minutes or until soft..
Add the garlic, stir and fry for another minute..
Add 200g of the ham, the potato and the stock. Stir well and bring to the boil..
Add the frozen peas, stir and reduce to a simmer. Simmer for 20-25 minutes, stirring occasionally..
Remove from heat and whizz in a blender to get a smooth consistency..
Season to taste but go easy on the salt as ham stock can be salty..
Serve piping hot, distributing the remaining 50g of diced ham between the soup bowls and adding a small dollop of crème fraîche to each bowl..
Serve with granary bread or crusty rolls for a nourishing meal in itself..