Chicken Cordon Bleu Soup. A delicious French classic, chicken cordon bleu is made of chicken breasts stuffed with ham and Swiss cheese. Fall has still not shown its face here in South Florida. My husband has memories of trick-or-treating in a big winter jacket so your Halloween costume wasn't really even seen.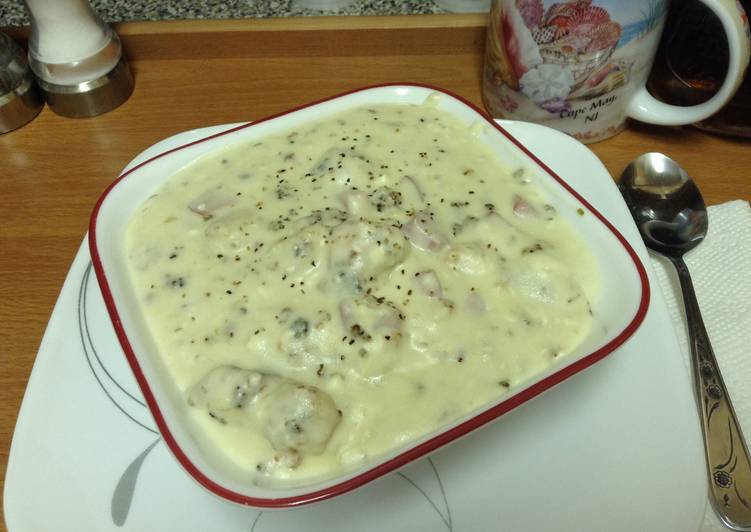 Chicken cordon bleu soup freezes beautifully! Just make sure it is fully cooled before freezing. Chicken Cordon Bleu Soup is a rich and cheesy soup that warms you from the inside out. You can cook Chicken Cordon Bleu Soup using 7 ingredients and 13 steps. Here is how you achieve it.
Ingredients of Chicken Cordon Bleu Soup
Prepare 4 cup of Whole Milk.
You need 1 lb of Skinless boneless chicken cutlets.
It's 3/4 cup of Panko breadcrumbs.
You need 1 1/4 cup of Olive oil.
It's 1/3 cup of Flour.
You need 1 of Ham steak.
Prepare 1 of Chive and onion cream cheese softened.
The best part is that this dish can easily be made quickly on the stove top or it can simmer all day in the slow. Chicken Cordon Bleu SoupThe flavors of chicken cordon bleu in a soup! From Erica Kastner of Buttered Side Up. Add about half of it to the soup to thicken it, then add more until the consistency is what you want.
Chicken Cordon Bleu Soup instructions
Place 1 tablespoon of the milk and 1/4 teaspoon salt in a large bowl..
Add chicken pieces toss to coat.
Add breadcrumbs press to coat set aside.
In a 4 quart sauce pan heat 1/4 cup olive oil over medium heat.
Add flour and 1/2 teaspoon salt and cook stirring 2 to 3 minutes until thick n golden brown.
Slowly stream in remaining milk beating constantly with whisk.
Stir in diced ham steak.
Heat just to simmering then reduce to low and simmer 5 more minutes.
Remove from heat add cream cheese and stir until melted.
In a 10 inch skillet heat olive oil add breadcrumb crusted chicken.
Cook until no longer pink.
Add chicken to soup mix together.
Spoon into bowl server and Enjoy!.
Bring to a boil; then serve. My EASY Chicken Cordon Bleu recipe. All the flavour, all the crunch, healthier and far easier! Served with an incredible Dijon cream sauce. Chicken stuffed with ham and cheese, coated with crunchy golden breadcrumbs.