Split Pea and Ham Soup.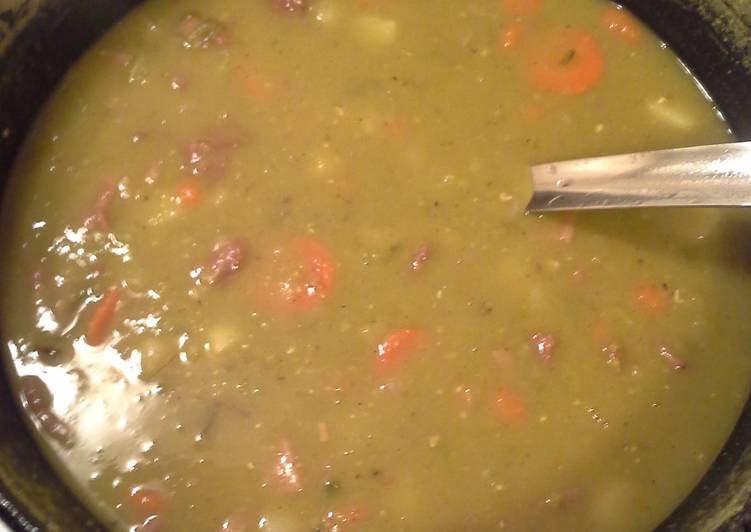 You can have Split Pea and Ham Soup using 14 ingredients and 3 steps. Here is how you cook it.
Ingredients of Split Pea and Ham Soup
It's 1 1/2 lb of dried split peas divided.
It's 10 1/2 cup of water divided.
Prepare 3 of chicken bouillon cubes for 6 cups of water.
You need 2 lb of ham on bone.
You need 4 clove of garlic, minced.
You need 2 of carrots, sliced.
Prepare 2 of celery stalks including leaves, sliced.
Prepare 1/2 of onion, chopped.
You need 3 of red potatoes, cubed.
It's 1 of Bay leaf.
Prepare 2 pinch of white pepper.
Prepare 1 pinch of Cheyenne pepper.
It's of fresh ground black pepper.
You need of chopped cooked bacon *optional.
Split Pea and Ham Soup step by step
Sort then rinse peas. In a large pot, combine 1lb peas, 8 cups of hot water, chicken bouillon and ham, then bring to a boil over high heat. Cover the pot and reduce heat to low. Cook for 30 min stirring occasionally..
While that's cooking chop all vegetables. After first half hour add the vegetables and seasonings for 30 more minutes or until desired tenderness is reached. In second pot add 2 1/2 cups of water and 1/2 lb of peas on medium heat for 30 min..
Once desired tenderness is reached remove the ham and trim the meat off the bone and discard along with excess fat. Chop meat and add back to soup along with extra peas and water. Mix well and serve..